You have /5 articles left.
Sign up for a free account or log in.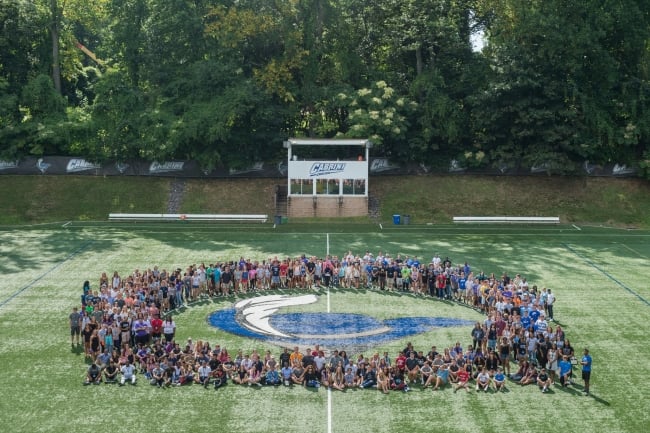 Cabrini University/Facebook
After months of uncertainty and a failed search for a partner to keep its doors open, Cabrini University will close. Nearby Villanova University is working on a deal to purchase its campus.
According to a joint statement from both institutions, Cabrini will graduate its last class next May, giving it one final year of runway before the small Roman Catholic university in Pennsylvania formally shuts down and hands its campus over to Villanova, another in-state Catholic university.
Cabrini had been seeking a partner since at least last fall.
Cabrini's Struggles
Like many small colleges, Cabrini has struggled in recent years with enrollment, which stood at about 1,500 students in fall 2022, per university officials. According to federal enrollment data, that number is down from 1,760 in fall 2019, the last semester before the coronavirus pandemic hit the U.S. and slowed enrollment nationwide. Looking back further, the university enrolled 2,448 students in fall 2013, meaning it has lost nearly 1,000 students in less than a decade, according to the Department of Education's Integrated Postsecondary Education Data System.
Those challenges led to workforce reductions and program changes. Forty-six positions were eliminated in 2021, followed by an academic reorganization and additional cuts last year that reached top administrators, including the provost. At the time of the 2022 cuts, officials said Cabrini was operating at a $5 to $6 million deficit on its $45 million budget.
Now Villanova is set to take over Cabrini's campus when the university closes next year.
In their joint statement, Cabrini interim president Helen Drinan and Villanova president the Reverend Peter M. Donohue pointed to "a shifting and increasingly difficult higher ed landscape" and "significant financial challenges stemming from declining enrollment, the pandemic, and economic uncertainty" as the factors that drove the university out of business after 66 years.
"As neighboring Catholic institutions connected by our aligned, faith-based missions, the boards of Villanova and Cabrini universities have approved in principle an agreement that will preserve Cabrini's history, mission, ministry, and legacy after the school graduates its final class in May 2024 and concludes operations," Drinan and Donohue concluded in their joint statement.
While the terms of the deal haven't been finalized, the two institutions have a memorandum of understanding that will allow them to move forward as talks continue, Drinan said in an interview. She added that the Cabrini name will be kept alive in some way, with the grounds to be called "Cabrini Campus at Villanova University" or something similar.
Drinan said that when she took the helm at Cabrini a year ago, she hoped to find a path forward, but over time that became increasingly unlikely. While the closure is difficult, she believes the winding-down process has been carefully orchestrated to make it as positive as possible for students and employees.
"It's critically important that we have the time to resolve the future education of our students and the future employment opportunities of our faculty and staff," she said. "And we have that time in the forthcoming year. So I think all in all, given what's going on in American higher education today, it's a good outcome. Hard, emotional, painful, but on balance—a good outcome."
Now Cabrini will join the ranks of other colleges that have announced closures this year, including Medaille University, Cardinal Stritch University, Presentation College, Holy Names University, Iowa Wesleyan University, Finlandia University and various for-profit institutions. Others, like Salus University and St. Augustine College, will be absorbed in mergers with larger partners.
Birmingham Southern College narrowly averted closure this year thanks to Alabama lawmakers who created a loan program to help private colleges experiencing financial hardship.
Another College in Limbo
The news of Cabrini's closure came on the same day that the board of the King's College in New York promised an update to its community amid financial struggles that have prompted concerns about its future. Earlier this year the college announced it needed $2.6 million to meet its "immediate needs" to finish out the academic year. But that fundraising effort brought in only $178,000 by the Feb. 15 deadline, prompting fears that the small, private college would close.
Since its struggles were announced, TKC has hung on, securing a $2 million loan from Peter Chung, a wealthy Canadian businessman who likely played a role in destabilizing the college through a partnership in which he promised and failed to deliver thousands of online students.
Leaders at the King's College have for months expressed a desire to secure a partnership with another institution. And while officials seem to be in discussions, those talks have yet to yield a partner. On Friday, the day of the promised update on its fate, the King's College Board of Trustees punted.
"While we do not have any new specific information to share at this time, the Board of Trustees and King's leadership continue to work diligently on behalf of the College and our students. Discussions are ongoing with another Christian university regarding the potential for a strategic alliance," read a statement from the TKC board. It promised another update by this Friday.
This is the third time the King's College board has offered little to no new information on a path forward for the college. Similar statements on May 31 and June 16 referenced plans for a "strategic alliance" with another university but did not offer insight into progress on those talks.
While Cabrini's faculty and staff have a year to prepare for their next step, employees at TKC face an uncertain fate with no promise of employment when the fall semester arrives. And some worry that the closure of King's would mean many faculty members will never teach full-time again.