The Mathematical Association of America is facing controversy for deciding to host its big annual conference in Tampa.
A group of historically Black community colleges is joining the Thurgood Marshall College Fund. Leaders of the often-overlooked institutions say the move will bring them new and much-needed resources.
Graduates make up 37 percent of the unemployed in a period of high inflation.
Student Voice data offer insight into students' experiences with telecounseling. What can college leaders do to help ensure students are getting quality virtual care?
Tennessee Tech University established a partnership with a local environmental cleanup organization focused on career-readiness for engineering students to work in eastern Tennessee.
Inside Higher Ed Careers
Our job board offers solutions for job seekers and recruiters.
Explore close to 50,000 faculty, administrative and executive jobs from institutions seeking to hire. Plus, set up email alerts so you never miss a great opportunity. Are you hiring? Post your open positions and start receiving applications immediately.

A discussion of the special challenges and strategies for the growing numbers of students who are studying fully or partially online.

How can colleges ensure that all students emerge with a sense of agency and purpose that improves their well-being decades later?
Reducing carbon from transportation is key to our future. In today's Academic Minute, a Student Spotlight during University of California, Irvine, Week, Candelaria Bergero examines how to cut emissions from one form of transport.

Knowing who gets vaccinated more often can tell us whom to target in future vaccine efforts. In today's Academic Minute, part of University of California, Irvine, Week, Keri Hurley-Kim explores the data.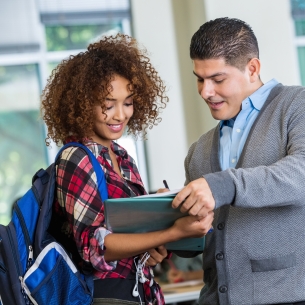 NEW Student Success Newsletter
Gain actionable news, ideas and advice about the meaningful student programs and supports your institution can build to ensure student success.