You have /5 articles left.
Sign up for a free account or log in.

Boston Globe / Getty Images
A student involved in the admissions scandal sued Georgetown University in federal court hours Thursday before the university expelled two students, reportedly including the one who sued.
The litigation raises questions about whether a student loses the due process rights accorded by the university to all students if he lied on his application and thus arguably was never entitled to those rights. And the litigation demonstrates the extent to which colleges in the scandal may face long and expensive legal disputes.
The suit was filed by Adam Semprevivo, who just finished his junior year at Georgetown. His father, Stephen Semprevivo, pleaded guilty last week to one count of conspiracy to commit mail fraud and honest services mail fraud. Prosecutors said the elder Semprevivo paid $400,000 in bribes to have his son admitted as a recruit to the university's tennis team, even though Adam Semprevivo was not a tennis player. Being on the recruited-athlete list of a team can provide a significant leg up to applicants at colleges with highly competitive admissions, such as Georgetown.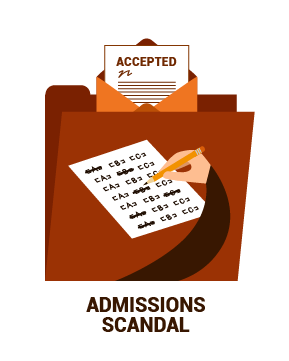 The lawsuit says that the younger Semprevivo earned grades and test scores in high school that put him in the range of the applicants Georgetown admits. And while the suit says that Rick Singer, the mastermind of the bribery scheme, worked with the Semprevivos on routine matters related to applying to Georgetown, Adam claims not to have known about other things his father paid Singer to do. And the suit says that Adam received no inappropriate help in his work in high school. (The suit doesn't address a key fact noted by many admissions experts -- namely that many rejected applicants to colleges like Georgetown have grades and test scores similar to those who are admitted, so even if Adam's academic background shows he was in the range of admitted applicants, it doesn't show he would have necessarily been admitted without the actions taken by his father.)
The suit says that an essay on Adam Semprevivo's application -- about his tennis activities -- was submitted without his knowledge.
To the extent that the essay was false, the suit faults Georgetown for not figuring that out.
"Despite the fact that these misrepresentations could have been easily verified and debunked before Georgetown formally admitted Semprevivo in April 2016, no one at Georgetown did so," the suit says. "In fact, Semprevivo's high school transcripts, on their face, reflect that Semprevivo's athletic endeavor of choice was basketball and that he received credit for his participation on the basketball team. His high school transcripts, which were supplied to Georgetown by Campbell Hall High School, made no reference to Adam ever having played tennis."
Georgetown declined to comment on the lawsuit and has declined to comment on any of the students at the university who were implicated by the scandal. But the university -- in a manner similar to others involved in the scandal -- has said that it would have grounds to expel students who were admitted under false pretenses. Georgetown's application requires students to affirm the truth of all the information submitted. (The university has released an FAQ on its response to the scandal.)
Adam Semprevivo's suit says that he has been successful academically at Georgetown, earning a 3.18 grade point average.
The suit says that, if Georgetown wants to consider whether he violated university rules, the process to do so is through the honor code, which spells out procedures and due process rights for those accused.
An email from Georgetown, quoted in the lawsuit, rejects the idea by Adam's lawyers that he is entitled to honor court rules. "The university's honor system, which I believe your email refers to, does not apply here because this concerns Mr. Semprevivo's submissions to the university and activities prior to enrolling as a student."
The university also did not accept, the suit says, a proposal that Adam be able to withdraw from the university, with his credits.
'Cause for Rescinding'
Georgetown, via email, confirmed on Wednesday that two students had been kicked out but did not name the students. The statement also stressed that the students had their admission offers rescinded.
"Following the March 2019 indictments, Georgetown University began conducting a process of thoroughly reviewing the newly available information related to the alleged scheme, contacting current students who may have been involved, and giving each individual student an opportunity to respond. Applicants to Georgetown affirm that the information and statements contained in their applications are true, correct and complete. Knowingly misrepresenting or falsifying credentials in an application can be cause for rescinding the admission of the student and dismissal from Georgetown," the email said.
It added, "Today, we informed two students of our intent to rescind their admission and dismiss them from Georgetown. Each student case was addressed individually and each student was given multiple opportunities to respond and provide information to the university."
Many Georgetown students and alumni have been urging the university to take actions such as it took on Wednesday.
A petition with more than 21,000 signatures says in part, "Leaving these unqualified children of bribing parents severely degrades the standards and prestige of Georgetown University. All of the hard work that we as alumni and current students did to receive admissions fair and square is thoroughly degraded by having these severely unqualified applicants receive admission and any subsequent degrees because of their parents' financial ability to bribe university officials."
Were Students Coached to Claim Minority Status?
The Georgetown lawsuit was not the only scandal-related development in the last week.
The Wall Street Journal (subscription required), citing anonymous sources, reported Saturday that Singer advised a number of students to falsely claim that they were members of minority groups. Most of the instances of application lying in the case thus far have involved applicants pretending to be athletes so they could be listed as recruits for a team.
"On some applications that Mr. Singer's operation handled, applicants may have claimed to be underrepresented minorities based on a tenuous connection, such as a distant relative of Native American ancestry, said one of the people familiar with his business," the Journal article said. "In one case, the person said, a teenager was presented as Native American when 'there was absolutely nothing Native American about this kid.'"
Another Admission of Guilt
Laura Janke, former assistant coach of women's soccer at the University of Southern California, pleaded guilty Tuesday in connection with her involvement in a scheme to use bribery and other forms of fraud to get some applicants admitted.
Specifically, she pleaded guilty to conspiracy to commit racketeering. Prosecutors said that she created athletic "profiles" and documents "to bolster students' college applications by making them appear to be highly successful high school athletes when in fact they were not."
A Cheating-Inspired Film
There is already a television show being developed that was inspired by the admissions scandal. Now there may be a cheating-inspired film. Two production companies have jointly purchased the rights to produce an English-language version of Bad Genius, a highly regarded Thai film based on the idea of cheating on tests given the same day in different countries. In the film, students plot to take an exam in Australia and to send questions and answers back to Thailand before the test starts there.
The Wrap reported that the film rights were purchased before the admissions scandal broke. Here is a trailer (with subtitles) for the Thai version of the film.