You have /5 articles left.
Sign up for a free account or log in.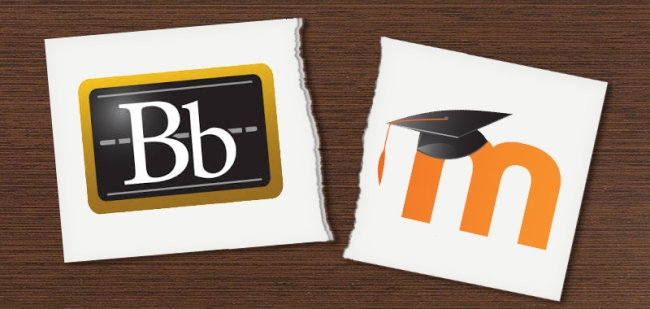 Photo illustration by Jordan Woll
Here's an unassailable fact: Moodle and Blackboard are parting ways after six years of partnership. Here's another unassailable fact: the breakup is a little messy.
The two learning management system companies -- one Australia-based and open source, the other D.C.-based and proprietary -- can't quite agree on who made the first move to cut ties or why canceling the partnership was worthwhile. They have arrived at consensus, at least publicly, that they'll be better off in the long run without the other.
Moodle announced in a news release Friday that it had opted to cancel its partnership with Blackboard. Blackboard followed up a few hours later with a statement asserting that it had initiated the cancellation. The story, according to executives at both companies, is slightly more complicated, and still murky.
The end of the partnership means Blackboard can longer use the Moodle name in any of its products or advertising materials -- but Blackboard's Moodlerooms product will continue to exist, and its infrastructure will continue to be owned by Blackboard.
The partnership has appeared an odd fit from the start, according to observers both inside and outside the two companies. Moodle launched in 2002 as a free, open-source alternative to Blackboard's expensive but dominant proprietary software. The two joined forces in 2012 when Blackboard acquired Moodlerooms and its Australian counterpart NetSpot, companies certified as partners that can help institutions host Moodle's open-source platform. Those acquisitions came after Blackboard made a verbal offer to purchase Moodle wholesale, according to Moodle CEO Martin Dougiamas, who says he turned it down. (Like other big technology companies, Blackboard has a habit of acquiring competitors.)
Analysts say Friday's news marks a bold effort on Moodle's part to strike out on its own and further differentiate itself from a company that serves as its philosophical antithesis. Blackboard, meanwhile, continues to contend with an increasingly crowded landscape while diversifying its offerings and dealing with financial challenges (though the company has played down the significance of its money woes). Clients of the Blackboard-owned Moodle partners could decide to stick with the services they have, or use this news of turmoil to justify making a change.
"We've always known the tension beneath this," said Phil Hill, co-editor of the e-Literate blog and a close observer of the LMS market. "We've known that it's been a difficult marriage. We've known this situation has got to be resolved one way or another."
What Went Wrong
Moodle's business model can be confusing to the uninitiated. A brief synopsis: the company provides institutional clients with open-source code for its LMS. Institutions can choose to self-host or pay an outside company to provide hosting services. Moodle offers partner certifications to hosting companies in exchange for 10 percent of their revenue from fees.
The contract between Moodle and Blackboard was set to renew automatically on June 30. According to Phill Miller, Blackboard's chief learning and innovation officer, and Kathy Vieira, its chief portfolio officer, the company sent Moodle a notice of nonrenewal prior to the automatic renewal date. Blackboard's team felt Moodle had been investing more in partnerships with clients who self-hosted the platform, at the expense of support for Moodlerooms.
That prompted a series of negotiations in which Blackboard suggested alternative terms for partnerships: a referral agreement, or an arrangement that allows Moodle access to Blackboard's extension tools, like Ally for improving accessibility, SafeAssign for preventing plagiarism and Collaborate for web conferencing.
"We had made it perfectly clear that we were not going to continue as it was," Vieira said. "It would have been a totally different kind of partnership."
Moodle rejected the alternative options last week, both parties agree. Moodle partner companies owned by Blackboard currently provide Moodle's largest revenue stream among more than 80 partners. But revenue from Blackboard has represented an increasingly small percentage of the company's overall intake since 2012, according to Dougiamas. A major influx of cash last year from the French investment firm Education for the Many also rendered Blackboard's contribution inessential, Dougiamas said.
The partnership has been "awkward" and "uncomfortable" from the start, according to Dougiamas. Giving a direct competitor access to Moodle's brand name when marketing to institutions never made sense, Dougiamas said. Blackboard has long dominated the overall LMS market in the U.S., though Moodle has narrowed the gap in recent years, now claiming 23 percent of U.S. market share compared with 28 percent for Blackboard. Moodle has the largest worldwide LMS market share, with Blackboard second.
"There's always been confusion between the Moodlerooms name, which we were allowing them to have. People would often get those confused," Dougiamas said. "[Blackboard] would often use that to their advantage out in the marketplace."
For its part, Blackboard claims to have seen a steady and even slightly increasing rate of adoptions for its Moodle products. The rate Moodle partners pay to Moodle declines somewhat as the partners' revenue from client relationships increases, which could account for the perception within Moodle that Blackboard isn't keeping up, according to Miller and Vieira.
Dougiamas felt throughout that Blackboard saw its Moodle partner companies as less significant to its overall efforts than its flagship LMS product. He's willing to offer one bit of praise to the company, though: he appreciates that Blackboard demonstrated commitment to the partnership after buying the Moodle partner companies amid a flurry of acquisitions.
Observers point out that Moodlerooms was a solid contributor to Moodle's early years in the late 2000s and early 2010s, both before and after Blackboard took over.
"They contributed quite significantly in the early stages of the market in helping stabilize clients who wanted to go with Moodle but have a solid commercial backing, where they'd have someone to do services and support," said Brian Carlson, CEO of the Baltimore-based ethink Education, the second-most-lucrative Moodle partner company behind Blackboard/Moodlerooms.
That said, Moodle is now focused on developing new products like Moodle Net, a social network for educators that offers professional development and knowledge-sharing opportunities, and Moodle's mobile app, which now allows students to download content and use it off-line.
"I'm happy about the whole thing," Dougiamas said. "I'm just really more relaxed."
What's Next
Blackboard has until September to rebrand its Moodle partner companies. Decisions on next steps will be announced soon, though Miller and Vieira declined to offer an exact timeline.
"We've had more meetings than we want to even talk about," Vieira said. "It is the topic of the day."
Blackboard emphasizes that it has no plans to curtail support for its open-source efforts. In fact, it hopes to use the money it had been sending to Moodle to strengthen those services, especially as clients trend toward interest in enterprise solutions rather than more limited proprietary ones.
Blackboard's executives maintain that they've been proud to support Moodle's efforts with "millions and millions of dollars," and that they appreciate the company's impact on the LMS landscape, particularly in emerging and developing economies.
Lou Pugliese, a co-founder of Blackboard who served as president of Moodlerooms from 2010 to 2011 and CEO of Moodlerooms from 2011 to 2012, felt optimistic when he contributed to the decision for Blackboard to acquire Moodlerooms. He thought the company had a social responsibility to contribute to entities like Moodle -- but he now sees those principles may not have been in the culture at Blackboard.
"It's not surprising, but it's extremely disappointing, and extremely disheartening for something that could have been a win-win for everyone," Pugliese said. "There should have been a way and there could have been a way to make this sustainable over the long term."
The future of Moodlerooms, soon to be renamed, also remains in doubt. Though Blackboard has said it will continue the company's operations business as usual, Carlson said he's had calls with "dozens" of Moodlerooms clients since Friday who are expressing interest in switching to a different hosting service.
"It comes down to service quality," Carlson said. "Some of it has been widely understood since the purchase that the direction that they wanted to take for Moodle was not always very clear, and at times was detrimental to the clients."
Some clients have told Carlson they're troubled by the potential loss of a direct line from their hosting company to Moodle headquarters. Others say they want the money they're paying for hosting services to be going toward improving the underlying Moodle foundation.
Pugliese also thinks small institutions in particular will be inclined to seek out another service provider, given the negativity around what Moodlerooms could become.
Regardless of what happens with Blackboard's open-source products, the company remains in transition. James Wiley, principal analyst at Eduventures, thinks the company is still adjusting to not being seen as the default LMS option as it once was. But he's encouraged by the company's stated intention to move toward the increasingly popular "software as a service" model.
"I think Blackboard is not regaining trust, but at least regaining benefit of the doubt," Wiley said. "That's put them in a better place than they were last year."