You have /5 articles left.
Sign up for a free account or log in.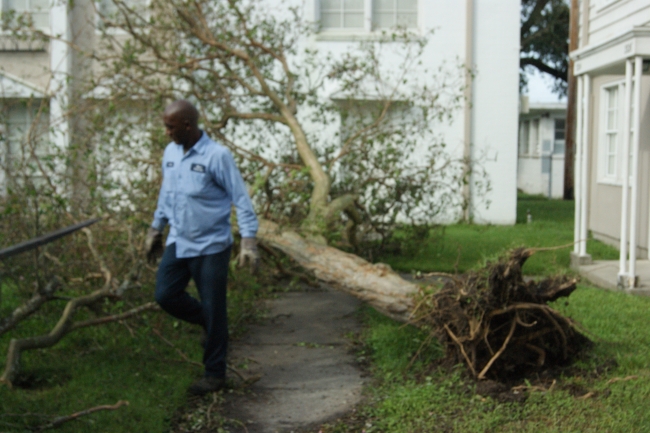 Last Sunday, when forecasters first began to predict then-Tropical Storm Isaac might hit New Orleans, staff at all Delgado Community College's campuses were immediately set to work tying down loose items and clearing drains and gutters.
"The best story of Isaac from my perspective is the demonstration of our preparedness," Chancellor Monty Sullivan said. "Our staff was on the spot Sunday at 10 a.m." 
The reason for the swift action? A lesson Delgado learned the hard way.
When Katrina struck New Orleans at about this time seven years ago, Delgado was hit hard by the deluge, and wasn't prepared to deal with it the way staff members are now. On the main City Park Campus, for example,
60 percent
of the college's buildings were flooded during Katrina and its aftermath. 
The campus looks much better this time around, with no more than some scattered debris and a downed fence on the baseball field, according to Sullivan. Isaac, of course, did not have Katrina's force, but even if it did, Delgado, like most other colleges and universities in New Orleans, is now much more prepared. 
"Katrina made us think a little longer-term," Sullivan said. 
Though some New Orleans colleges suffered minor flooding, and most lost power for a few days, none are facing the sort of semester-ending devastation Katrina wrought. And though part of that is simply because Isaac was not as powerful a storm, part, administrators say, is because they are better-prepared.
Most colleges made the decision Sunday, before the storm had moved in, to cancel classes Tuesday and Wednesday – the storm's slow movement later forced officials to shut down campuses Thursday and Friday, too – to give students time to get out. Only Dillard University required students to evacuate.
But even at the colleges that allowed students to shelter in place, evacuation plans were prepared and emergency response teams were assembled – just in case. One university, Loyola, even contacted its insurance company last Friday, about four days before the storm made landfall.
"We wanted to put the company on notice that we were in the path of the storm and were going to need their assistance," said Rick Bell, director of risk management at Loyola. 
Loyola, like many other universities, has completely revamped its emergency response plan in the seven years since Katrina. Students are now required to have an evacuation plan submitted in writing, a step freshmen had completed just a few days before the campus shut down because of Isaac. Additionally, the university now has a 100-page crisis communication plan, which didn't exist at all before Katrina, and has hired an emergency manager, according to Meredith Hartley, the university's director of public affairs and external relations. 
Loyola has improved recovery plans, too. The university was hit hard enough by Katrina that classes were canceled for a semester, which cost a substantial amount of money. As a result, the university has increased its business interruption coverage, according to Bell, and has a plan to conduct all its courses online, if necessary. 
Similar changes have been made at other universities. Tulane has codified its emergency response plan and clarified responsibilities, according to President Scott Cowen. Delgado has phones set up with a different area code than the standard New Orleans number, in case service goes down completely, as it did during Katrina. And Xavier's semester schedule now includes "hurricane days," contingency days in October that are usually used as a fall break but can be used to make up missed classes if the need arises.
These new plans were executed relatively smoothly as Isaac made landfall and hovered over Louisiana for a few days last week, administrators said. The biggest challenge, most said, was deciding when to cancel classes and whether or not to evacuate.
 "It was actually Monday before we made the call to cancel classes until Thursday, so as a team we have already talked about that and something we would have done differently is call the closing of classes earlier," Hartley said. 
Cowen stands by his decision to let students shelter in place – about two-thirds of Tulane's residential students remained on campus – but noted that it's a hard call to make. 
"It's always a fine line and it always depends on the storm," he said. "Can we have better ways of making a decision? Maybe. What you don't want to do is prematurely do a mandatory evacuation and find out the storm veers off in another direction and you closed the university for a week."
At Dillard, though, President Walter Kimbrough, who is in his first year at the university and had never been in a hurricane before, said he's glad his university sent students out of the city; students either went to their own evacuation points or to Centenary College in Shreveport. Still, he said, he wants to update the university's emergency plan to make the decision easier in the future.
"I think we made the right call in sending students away so they wouldn't have to be there in the heat not having power, because I think people in the city now are frustrated with that," Kimbrough said. "But we need to have a much broader plan to think, 'What do we do in a situation that is not a category three or four?' That's an easy call – everybody leave … But what do you do with a tropical storm that barely becomes a hurricane that sits over you for two days?"