You have /5 articles left.
Sign up for a free account or log in.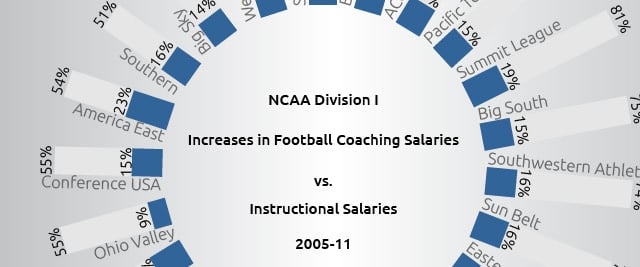 If you're an instructor in the Western Athletic Conference, the football coaches at your university and your fellow WAC member institutions are only making triple what you make. Only, because in the Southeastern Conference, the coaches' salaries are eight times that of the faculty's. (Well, 8.3 times as much.)
That big-time coaches earn more than professors may not be a surprise, but a new study documents the striking extent and longevity of the gap: Coaches' salaries increase year after year at much higher rates -- even as many colleges say they are engaged in belt-tightening across they board -- and that pattern is driven by the institutions with the largest athletic programs.
But the stark differences in the data – which, by comparing salaries, take an uncommon approach to exploring the cost of athletics – should prompt college presidents to stop and think reconsider the value they're placing on athletics in the context of the educational enterprise, said Scott Hirko, a study co-author and assistant professor of sport management at Central Michigan University.
"The cost to fulfill the mission of the institution – the core mission and purpose – is cost of instruction," said Hirko, who presented the study at last week's American Educational Research Association meeting. "Regardless of how you look at it, at all levels, institutions were willing to pay a greater rate for coaching salaries."
Sorted by competitive level (Football Bowl Subdivision vs. Football Championship Subdivision, Bowl Championship Series automatic qualifier vs. non-AQ vs. FCS, BCS AQ top half vs. bottom half), conference or flagship status, athletic salary growth outpaces instructional salary growth at Division I institutions at varying levels. The study uses public data compiled by IPEDS and USA Today.
The SEC saw the highest escalation in football coaching salaries (though it was outpaced in instructional salaries by seven other conferences) through the "Great Recession." In that conference – home to about a quarter of the nation's 23 athletic programs where revenues actually outpace expenses – instructional salaries rose 15.5 percent between 2006 and 2011, from $70,886 to $81,758. At the same time, football coaching salaries increased 128.9 percent, from $3,147,149 to $6,928,989. That escalation was smallest in the WAC, where football salaries rose 46.4 percent, from $1,370,332 to $1,819,845, and instructional paychecks rose 15.2 percent (a faster increase than several other conferences), from $65,038 to $76,533.
The data don't speak to how conference realignment affects salaries, because most of the major switches agreed upon in the past few years are not accounted for because they hadn't transpired by 2011. In fact, the report recommends a separate study on that topic. But it wouldn't be much of a stretch, given the data that are there, to suggest that moving up conference tiers will lead to escalated spending on athletic salaries: conference membership is a significant predictor in the growth of coaching salaries.
Hirko pointed to Syracuse University, where faculty and students are petitioning for the athletic department, not the institution, to foot the $7.5 million fee it's going to take to leave the Big East Conference for the Atlantic Coast Conference. In this case (as in most cases), administrators argue that the entire university will benefit from greater revenues in the ACC. But the situation at Syracuse is that with more revenue comes more costs.
"It just shows that as an institution moves up a chain, they're expected to pay more to be competitive," Hirko said, adding that Syracuse is not unique in asking for more institutional support to pay for escalated athletic pursuits.
That thesis is also supported by other variables examined by Hirko and his co-authors, Welch Suggs, an associate professor of journalism at the University of Georgia, and Jeffrey H. Orleans, a senior associate at the intercollegiate athletic consulting firm Alden & Associates. Progressing through the different classifications, one thing is clear: The bigger and richer the program, the wider the salary gap.
The trend begins with the broadest comparison possible in Division I – the more-elite FBS programs vs. the smaller, less-wealthy FCS ones. While the cost of instruction rose 53.3 and 48.2 percent at FBS and FCS institutions, respectively, and tuition rose 54.6 and 47.0 percent, instructional salaries increased only 15.8 and 14.14 percent. Total athletic coach salaries, meanwhile, rose 67.1 and 59.4 percent, and football coaches' salaries rose even faster: 80.8 and 61.9 percent.
Narrow that down to the most elite of the elite, and the difference becomes even more stark. In the Bowl Championship Series conferences, whose champions automatically qualify for a slot in one of the five BCS bowl games, instructional salaries rose 15.8 percent – which, as it happens, is 1.7 percent higher than the increase at FCS programs. But total athletic coach salaries rose 78.4 percent, and football coach salaries rose 96.6 percent.
For Hirko, the findings point to the gamble institutions are taking when they jump conferences (consider the University of Maryland, which said it would cut seven non-revenue sports before announcing its move from the ACC to the Big Ten Conference -- which requires a $50 million exit fee – all while operating at a $5 million annual deficit).
Athletics is tied much more closely to the commercial marketplace than all other parts of a university, Hirko said, which is why salaries and other expenses continue to rise at rates seemingly independent of the rest of the institution. And while college presidents may believe that staying competitive in athletics ensures profitable exposure and could boost donations and applications, the question remains, how much value should an institution truly place on athletics?
"Presidents should really start asking the question, what is the purpose for athletics on my campus…. It's not happening because they're caught in the marketplace, which is a self-sustaining prophecy," Hirko said. "The only way that presidents are going to be able to withstand writing the check is likely going to be to create some form of a coalition."