You have /5 articles left.
Sign up for a free account or log in.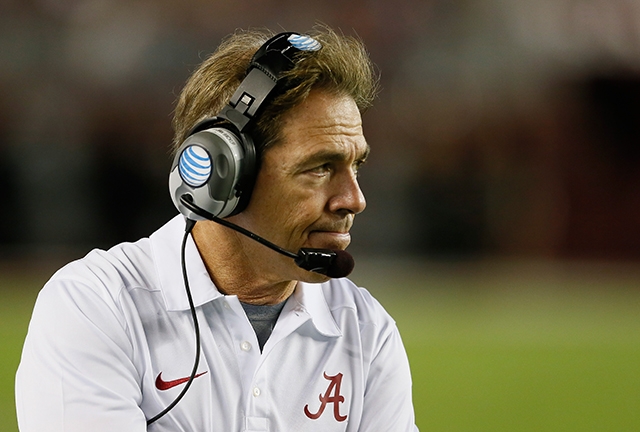 The University of Texas at Austin now pays its president $5.4 million per year, according to new figures released Wednesday.
Just kidding! That's actually the salary of the head football coach Mack Brown, whose total paycheck is even higher – $5,453,750 – when accounting for "other sources." But anyone remotely familiar with the finances of higher education institutions and their athletic departments probably knew that already.
Actually, in 2013, Texas President William C. Powers made about one-eighth of what Brown did.
Brown's not even the highest-paid football coach at a public college, the latest iteration of USA Today's football coach salary database shows. That title goes to Nick Saban of the University of Alabama, who made $5,545,852 in 2013.
Brown and Saban are not exactly anomalies. They are joined in the $5 million club by the University of Arkansas's Bret Bielema, and another 14 coaches make more than $3 million. Seventy coaches make more than $1 million.
Head coach salaries at major National Collegiate Athletic Association programs are up 10 percent over last year, and 90 percent since 2006. The average paycheck in 2013 was $1.81 million.
That's a whole lot faster rate of increase than that of instructional salaries, according to a study released earlier this year. It found that at Division I Football Bowl Subdivision institutions, which house the 125 biggest athletic programs, instructional salaries increased 15.8 percent from 2005-11, while total athletic coach salaries rose 67.1 percent (80.8 percent for football coaches). In the rest of Division I instructional salaries increased 14.14 percent, compared to 59.4 percent for all athletic coaches.
The men who head major college football programs also stand to make substantial bonuses that aren't included in their annual pay figures. Saban's maximum bonus is $700,000, but they go much higher. Arizona State University Coach Todd Graham, who makes $2.3 million a year, could get an extra $3.6 million if his team performs well and he meets other benchmarks (including academic ones).
Scott Hirko, assistant professor of sport management at Central Michigan University and co-author of the aforementioned study, notes that the biggest increases often come from colleges looking to jump into more competitive conferences or divisions. For example, Texas A&M University gave its coach a $700,000 salary hike after its first year in the Southeastern Conference. And the University of Colorado coach's pay has jumped from $725,000 his first year in the Pacific-12 Conference, 2011, to $2.4 million in 2013.
Colleges jump conferences to make more money – but to make more, the reasoning goes, they have to spend more. One of the biggest ways in which they do so, financially speaking, is by paying purportedly good coaches a lot of money. (Compensation is the biggest driver in escalating budgets.) But there's one problem, Hirko says.
"There's no evidence that it translates to wins."
Colorado's record so far this year is 3-5, and only 0-5 in the competitive Pac-12. Yet head coach Mike MacIntyre is making $1 million more than the next-highest-paid football coach in Colorado's history and more than double what his predecessor made. (Texas A&M, which has done surprisingly well in the SEC thanks to the Heisman Trophy-winning quarterback Johnny Manziel, is 7-2 this year.)
But it's not just the growing programs that are shelling out cash and not getting desirable results. Texas has been disappointing fans for the past few years, and is currently seeking a new head coach. Arkansas is only 3-6 in play this season.
"You're chasing money to find more wins for your football team," Hirko said, "instead of making decisions that may be in the best interest of your institution, which is delivering an instruction mission. And the continued increase in coaching salaries – and particularly football coaching salaries – is concerning."
Steve Miller, chair of the Alabama Faculty Senate, knows full well that Saban is making way more than professors are, and faster. And he's O.K. with that.
"I have a hard time looking at negatives about this, I really do," Miller said, just after leaving a meeting of the university's intercollegiate athletics committee, of which he's also a member. "If that's what it takes to get [students] in the gate, to be here in their classes, what the heck; why not?"
Miller, a professor of library and information studies, argues that the nationwide attention Saban has brought Alabama makes his salary a worthwhile investment – though he did say many professors were "stunned" at the coach's starting salary.
"All the faculty members wish they made his salary," Miller said. "But I'll tell you what, for the investment the university has made in him, it has multiplied a thousand-fold, and the trickle-down effect is significant on the academic side."
But, remember, it's important to keep perspective. Saban's salary is practically meager compared to that of Duke University's head basketball coach, Mike Krzyzewski, the equally storied "Coach K." He made $9.7 million in 2013.