You have /5 articles left.
Sign up for a free account or log in.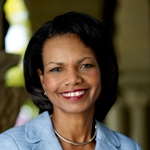 Around this time of year, many colleges announce their choices for commencement speakers and honorary degrees -- and in doing so some institutions revive the debate over who should address graduates.
On Friday, the Faculty Council at Rutgers University at New Brunswick adopted a resolution urging the institution to rescind an invitation to Condoleezza Rice, the Stanford University professor who is better known for serving as secretary of state and national security adviser in the administration of President George W. Bush.
The resolution stated that Rice "played a prominent role in his administration's efforts to mislead the American people about the presence of weapons of mass destruction in Iraq and the existence of links between al Qaeda and the Iraqi regime," and that "the lies thus promoted led to the second Iraq war, which caused the death of over 100,000 men, women and children, and the displacement of millions of others." Further, the resolution states that Rutgers "as a public institution of higher learning, should educate its students about past historical events, not pretend they never took place," and that Rutgers "should not honor someone who participated in a political effort to circumvent the law."
Rice has been a controversial speaker before. In 2006, during her time as secretary of state, some Boston College students turned their backs on her when she spoke at their commencement.
Some Rutgers students have joined the faculty in opposing the selection of Rice. The Daily Targum, the student newspaper, noted in an editorial that attracting a speaker of such "high status" reflects well on the university. But the editorial also noted her links to the Iraq war and concluded that the university would be better off without political speakers.
"The point is, we just don't feel comfortable having politicians as commencement speakers at all," the editorial says. "A commencement speaker is meant to be someone who has made some extraordinary and meaningful accomplishments in their lives to inspire a generation of college graduates. Rice probably has a lot of advice on perseverance, dedication and hard work that she can offer to this year's graduating class, but what she chose to do with those qualities is certainly questionable to us."
One person who commented on the editorial suggested that the paper might really be more concerned about the nature of Rice's politics: "Do you think for a minute the author of this editorial would be taking the same position had an invitation been extended to Hillary Clinton to be commencement speaker?"
Rutgers is standing by the decision. A statement from the university said that "Dr. Rice is a highly accomplished and respected diplomat, scholar and author, and we are excited that she has agreed to address our graduates and guests at commencement. The recommendation for Commencement speakers and honorary degree recipients comes from a Board of Governors committee that is composed of Governors, trustees and other members of the university community."
Past cases of controversial speakers or honorary degree recipients include Phyllis Schlafly, known as an anti-feminist, who received an honorary degree from Washington University in St. Louis in 2008; Ben Carson, the neurosurgeon at Johns Hopkins University whose selection as speaker at Emory University set off controversy in 2012 because of his creationist views; and Ben Carson again, in 2013, when he withdrew as a commencement speaker at Hopkins amid a barrage of criticism over anti-gay statements he made on a news show.
Conservative commentators frequently charge that colleges disproportionately select liberal speakers, and that conservative speakers face unfair scrutiny.
But at least some of the controversies concern people who can hardly be called conservative. In 2009, some students at the University of California at Los Angeles criticized the selection of James Franco, arguing that the actor did not have sufficient gravitas for the role of graduation speaker. And that year the biggest controversy by far over commencement speeches concerned President Obama at the University of Notre Dame.