You have /5 articles left.
Sign up for a free account or log in.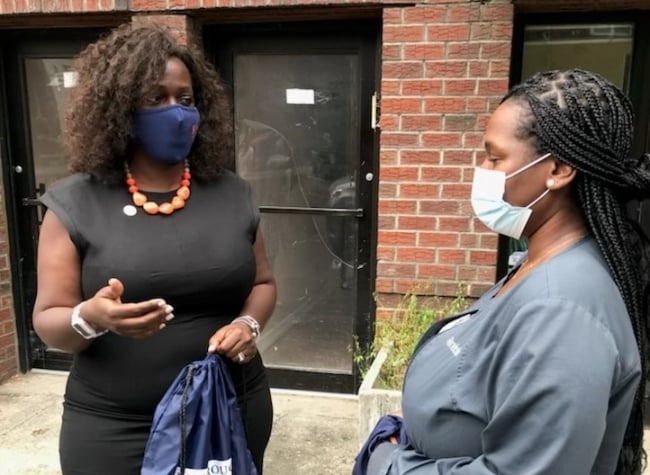 Kingsborough Community College
Claudia Schrader, president of Kingsborough Community College in Brooklyn, N.Y., is getting ready for the day's meetings. She puts on a pair of bright-blue sneakers, a casual accent to her professional black sheath dress, and a navy-blue mask with the college's logo in orange. She heads out of her office, flanked by two public safety officers, her communications and governance relations manager, and her special projects manager.
Schrader sits in the back seat of one of the two minivans that she and her entourage have packed into and chats with the driver about the best route to their destination. There are three off-campus meetings scheduled on this particular day, all of them with students who will be attending the college next fall.
These drives have become routine since Schrader started visiting incoming students last summer in the thick of the pandemic, when they could not take classes in person at the campus in Manhattan Beach. Since students couldn't come to the campus, she decided to bring a little bit of the campus to them. Schrader calls these visits her "welcome wagon."
"It's a great way to connect with students, and it's a great way for students to connect with the college before they set foot on campus," she said.
She meets students outside their homes or workplaces, usually during their lunch breaks. After a personal introduction and a brief chat -- she asks them why they chose Kingsborough, how they decided on their major and what their plans are after they graduate -- she gives them Kingsborough-branded swag: a thermos, mask and T-shirt inside a navy-blue drawstring bag.
The meetings last anywhere from five to 15 minutes. She met with 50 students between June and September of last year and is hoping to meet as many new students as she can before the fall semester starts.
College administrators have found a variety of ways to bring a personal touch to their work on campus in recent years. Michael Lovell, president of Marquette University in Milwaukee, is known for inviting students to join him on his daily runs. Edward Burger, the former president of Southwestern University in Texas, roved around campus in a golf cart chatting with students. Zach P. Messitte, president of Ripon College in Wisconsin, sent about 100 personalized, handwritten letters to prospective students in 2016. Debra Schwinn, president of Palm Beach Atlantic University, arranged personal Zoom calls with students.
These efforts at connecting with students -- and being seen as more approachable and accessible -- are all the more popular, and appreciated, at a time when many students say they feel isolated from their campuses.
Lynn Pasquerella, president of the Association of American Colleges and Universities, said campus leaders have increasingly embraced this hands-on approach over the last decade.
"We've talked a lot about how intrusive advising in education is important and making sure that students have visible mentors all along the way," Pasquerella said. "One step in that is, from the start, having leadership say, 'You matter to us and we're here for you in your community. Not just in our home, but in your homes as well.'"
Pasquerella noted that the pandemic made administrators all the more aware that engaging students is "everyone's responsibility," not just student life or admissions administrators. Efforts like the welcome wagon are "emblematic" of that all-hands-on-deck attitude, she said.
The idea for the welcome wagon came to Schrader toward the end of the 2019-20 academic year. She said she saw news stories about college staff across the country visiting graduates' homes when in-person commencement ceremonies were canceled, and she thought, why not do the same for future students?
"I was just really worried for our incoming students because they didn't know what the fall would bring," she said.
Schrader, who has led the college for almost three years, would normally greet students at the front gate of the campus on the first day of classes. But students started the fall semester online last year. She saw the welcome wagon as a way of "bridging between the unknown and the institution." As the only community college in Brooklyn, Kingsborough Community College serves high numbers of first-generation students, she said, students who may feel like they don't know what to expect from higher education under the best of circumstances, let alone during a global pandemic.
The institution also serves many students of color, groups hard-hit by the health and economic consequences of the pandemic, and those older than the traditional college age of 18 to 22. The student body was 35.8 percent Black and 18.2 percent Latinx in fall 2020, and 25.6 percent of students were above age 25. About 65 percent of students receive financial aid, and 51 percent of students are eligible for the federal Pell Grant.
Schrader also worried students might defer their studies because of the pandemic, put off by the thought of a fully online semester or stressed from the loss of jobs and reduced income. Like most community colleges, Kingsborough's enrollment dropped during the pandemic. Total enrollment for full-time and part-time students fell from 15,433 in fall 2019 to 15,284 in fall 2020. There were 8,849 students enrolled in degree programs in fall 2020, down from 9,936 students in fall 2019, a more than 11 percent decrease.
"A lot of our students lost their jobs because they were in the food industry or other places that were affected by the pandemic," she said. "Maybe part-time work was really difficult. A lot of our students, when faced with the decision of whether or not to maybe secure and take care of their families or go to school, the choice was clear."
Schrader said she hopes the welcome wagon will serve as a recruitment tool in a time of uncertainty and fear.
She didn't know how the first welcome wagon visits would turn out, but "students were really happy" about the one-on-one interactions, and that spurred her on.
"It was just really nice to see. After the last visit, I said, 'This was really great … When are we doing it again? I want to do it next week.'"
She said she sometimes gets overly ambitious and the special projects manager has to slow her down, telling her, "'Really, you can't see five people in three hours given New York City traffic,'" she laughed.
As they drive around Brooklyn, Schrader rolls down the car window to snap pictures of the classic redbrick buildings and colorful murals that line the streets. She has visited students across Brooklyn and in all five boroughs of New York City. Once, she went to a boatyard to visit an incoming maritime student. On another visit, a student was afraid to talk outside her building because of frequent drug deals on her block in the Bronx, Schrader said. Sometimes Schrader brings other administrators along on the visits. For example, she invited the president of John Jay College, Karol Mason, who also brought along swag from her institution, to visits with three incoming criminal justice students because the two institutions have a transfer pathway in the field.
The reactions to Schrader's visits vary. Some students greet her with big smiles and bubbly conversation; some invite her into their houses. Others are quiet and shy, standing sheepishly outside their homes with shoulders hunched and eyes downcast. Sometimes parents bring out their cameras, Schrader said. "I never know what I'm going to get."
Dillon Rust, an incoming computer science major, looked bewildered to see the college president on his doorstep last Thursday with her two colleagues snapping pictures and two public safety officers, dressed in plain clothes, waiting by the vans. Rust told the college president that he didn't like all the attention, but he shared a little bit about himself in response to her questions. He said he was from Jamaica, had a knack with computers and hoped to transfer to an institution in Florida after his time at Kingsborough. He asked her about the college's vaccination policy before darting back indoors.
Jose Albino, age 40, met Schrader outside his apartment in Crown Heights wearing jeans and a black baseball hat with "Brooklyn" in big, white capital letters across the front. He eagerly tried on his new Kingsborough Community College mask. The father of six said he is a homemaker and just earned his high school equivalency last September. He plans to start college for the first time this fall as a business administration major.
He told Schrader that his wife had an education, a bachelor's degree in computer forensics, so his kids would learn from his "failures" and his wife's success.
"And your success," Schrader responded. "I think you're already successful, because you decided you wanted to go back, and you set an example."
Albino said the visit made him feel "important." The two fist-bumped at the end of their conversation, and then Schrader was off and heading to the next house on the welcome-wagon list.
Renelsie Lenesta enthusiastically greeted Schrader outside the radiology office where she works at the front desk. The 35-year-old said she's starting at Kingsborough this fall as a nursing major to motivate her son to go to college one day, and she was "so, so excited" to sign up for classes.
"This has been, like, forever and a day," she said of her wish to get a college degree. "It's been trickling behind me. But I never put my foot in. I'm ready. My full heart is in it, and I'm ready."
Schrader peppered Lenesta with questions about what motivated her to go to Kingsborough and what kind of nurse she wanted to be. Lenesta described her work at the radiology office and a past job at a dermatology office.
"I'm hearing nurse, but I'm also hearing doctor," Schrader said.
"No, no, no, no, no," Lenesta laughed. "That's a little much."
"Just never say never."
In those brief moments when Schrader hands incoming students their swag bags, she talks with them about all kinds of things: their journey to college, their vaccination status or their attitudes about COVID-19 vaccines. She asks if they need anything before the start of the semester. She likes to follow up with them by email once they start classes to check in on how the semester is going.
She wants the welcome wagon to become a Kingsborough Community College tradition that outlives the pandemic -- and she thinks it could go a long way in making students not only feel more welcome but also more invested in their education.
Schrader said she didn't even know who the university president was when she arrived at Rutgers University as an undergraduate in 1986. But she went to visit a friend at Spelman College in Atlanta and saw the president walking around on campus and addressing students by name.
"I remember telling myself, if ever I was a college president, that's the kind of college president I would want to be … The welcome wagon is also an extension of that. As long as I'm here, it will continue."