Teaching and Learning
Study links certain traits of undergraduate education to success in life: meaningful interaction with professors, studying a variety of fields outside the major and having classroom talks that go to issues of ethics and life.
Surveys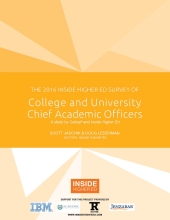 Jan. 22, 2016 -- Inside Higher Ed's 2016 Survey of College and University Chief Academic Officers queries provosts and other academic leaders on a wide range of topics. A copy of the report can be downloaded here.
Inside Higher Ed regularly surveys key higher ed professionals on a range of topics, in collaboration with Gallup.
On Feb. 16 at 2 p.m. Eastern, Inside Higher Ed Editors Scott Jaschik and Doug Lederman will share and analyze the findings and answer readers' questions in a free webinar. To register, please click here.
The Inside Higher Ed survey of provosts was made possible in part by advertising from IBM, Academic Partnerships, Rafter and Jenzabar.
Booklets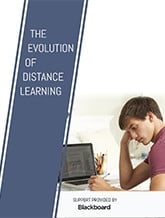 "The Evolution of Distance Learning" is Inside Higher Ed's latest compilation of articles.
The print-on-demand booklet features articles about a range of institutions and approaches.
This compilation is free and you may download a copy here.
Inside Higher Ed featured a webinar on October 13 in which its editors and reporters discussed the themes of the booklet. Click here to listen to the webinar.
This booklet was made possible in part by the advertising support of Blackboard. 
Topics
Section Topics
Related Jobs
Central Carolina Technical College is a comprehensive, public, two-year institution of higher education that is dedicated to fostering a positive...
Founded in 1830, the University of Richmond is one of America's premier private universities. The University blends the intimacy of a small college...
Most
Past:
Day
Week
Month
Year