You have /5 articles left.
Sign up for a free account or log in.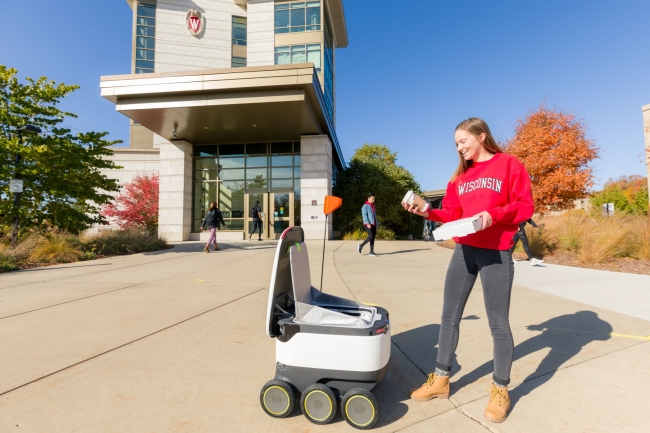 University of Wisconsin-Madison 
A typical game day at the University of Wisconsin Madison campus is filled with throngs of students, alumni and parents—all clad in white and red—making their way through the packed crowd to snag a seat among the stands of Camp Randall Stadium.
But over the last four years, something new has joined the hordes of people: food delivery robots. Attracting high fives, selfies and stares, the sleek, knee-high robots look like a cross between a copy machine and a drink cooler mounted on six wheels and topped by an antenna with an orange flag-like tip. When they pop their lids open, the aromas of pizza, sandwiches and other goodies make it obvious why they're popular.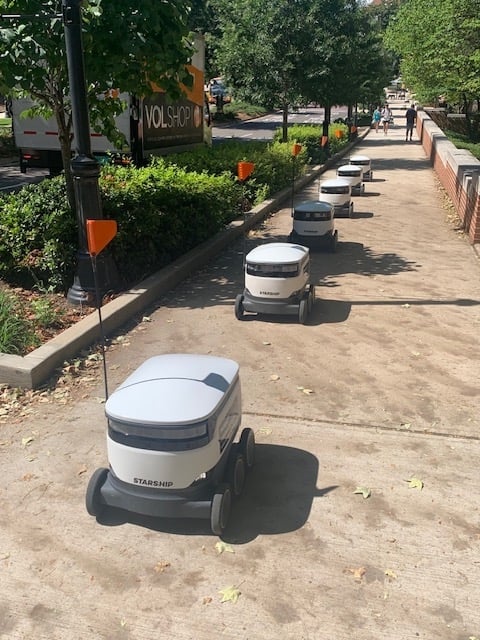 As universities increasingly turn toward technology for food services—ranging from robots, kiosks, food lockers and self-checkouts—more than robot selfies is at stake. Automation is seen as solving problems, including saving worker time, boosting the bottom line and serving a tech-savvy student body increasingly expecting instant gratification.
Food delivery robots have cropped up across nearly two dozen college campuses in recent years. Additionally, about half of colleges have implemented some kind of automation in their cafeterias over the last two years, according to a survey from CBORD, a technology solutions provider in higher education.
Here Come the Campus Robots
Robots first rolled out across UW Madison's 1,000-acre campus in 2019, after Starship, the maker of the robots, approached the university to launch a pilot program.
The potential of food delivery had already been on the minds of UW administrators and staff, according to Peter Testory, director of dining and culinary services at UW Madison. The COVID-19 pandemic made delivery a priority at a time when students preferred maintaining distance with little human contact.
But even post-COVID, Testory said the need for robots is just as strong.
"Now it's about the convenience piece," he said. "Students are busy and juggling a lot and anything we can do to make their lives easier is a great thing to do."
According to a 2022 Starship study, 64 percent of students said the robots helped keep them from skipping meals. The study was conducted across the 20 campuses utilizing the Starship robots.
The University of Wisconsin had 35 robots at its peak, including a few for off-campus neighborhoods that needed permitting from the city.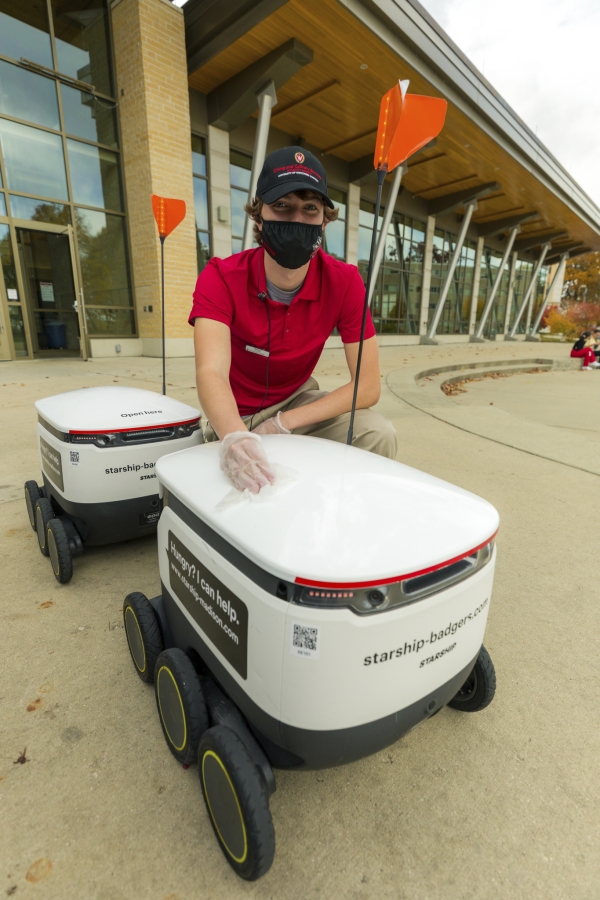 Students there use an app to place their robot-enabled order, perusing through the food the university's cafeteria is already preparing. Then a human "robot delivery coordinator" picks up the food from the cafeteria, brings it to the waiting robot delivery fleet and places the food in a particular numbered robot. The robot rolls out, meeting the student at a pick up point where the student unlocks the robot with the app, grabs the food and returns to studying or socializing. The robots don't have a range limit in reaching students as long as they remain on campus.
The University of Tennessee Knoxville, which launched its robot program in 2021, has an even bigger fleet of 60 robots and now racks up roughly 400 orders a day.
The technology helps students connect more by allowing them to skip long lines and get straight to eating with friends, said Mohamed Ali, director of dining at UT Knoxville.
"Students want that sense of community and belonging," he said, adding that technology enables that community creation. "Nowadays almost all of us expect some tech advancement; we have to meet that kind of expectation."
Self-pay Stations, Food Lockers, Kiosks, Pizza Ovens
Many campus tech advancements are largely driven by student expectations.
"We need to be listening to what's happening on the tech front so it mirrors when [students] go out to eat," said Jim Meinecke, director of residential dining at Penn State. "It's a big part of their experience; they're eating a majority of the meals with us. We want to give them the best experience we can."
Self-order kiosks like those found in fast-food restaurants, for example, have made their way into many chain establishments and are now peppered across university campuses, including Penn State and Texas A&M.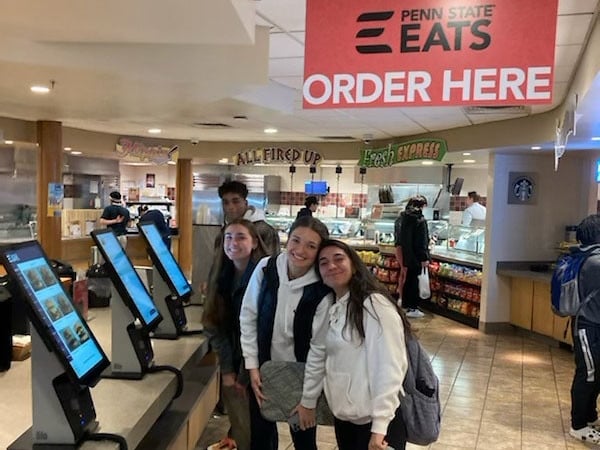 Beyond being used to easily customize orders, the kiosks help streamline the whole process. In TAMU's case, it more than doubles the output from workers, boosting efficiency by 52 percent, according to Brittany Coker, district marketing director for Aggie Dining.
"It's been awesome—students know how to use it, they jump on it, tap it and then they're on their way," Coker said, adding that it bypasses the bottleneck created by working with cashiers.
Campuses are playing with other forms of food service technology. There are also food lockers, allowing students to access food closer to their dorms and saving them a trek to the dining hall. Penn State is using mobile apps for orders, inspired by the popularity of Grubhub and UberEats. Other campuses are looking at Amazon-esque self checkout methods to use in their on-campus convenience stores.
And, in some cases, the robots aren't just delivering pizza, they're making it, too. A pizza-making robotic station from the Seattle company Picnic went to work at five colleges last year. While a university employee makes the pizza dough, the pizza machine puts the sauce, cheese and toppings on the pie before a person places it in an oven.
"It's our first go at automation and it's been really successful," Penn State's Meinecke said. "For me, it's where I see that kind of robotic part in the near future—it's helping our labor force do things that are repetitive and making it easier."
The technology is meant to support the work of dining room employees, not cut jobs, according to all of the institution representatives.
"I think it's really important to enhance the student experience and if it's something automated so staff can do something else, that's great," said University of Wisconsin's Testory. "We don't look into it as labor saving, but can it cover the cost and does it enhance the student experience."
The cost savings from making a more uniform pizza, for example, or allowing an employee to tackle a harder task, can add up.
Automation for Savings as Enrollment Weakens
According to a study released by CBORD, more than half of institutions plan on turning to automation in the next two years.
Unlike those interviewed by Inside Higher Ed, CBORD's survey respondents offered another reason for their interest in automation: the looming enrollment cliff. Dining operations are a major revenue booster for universities. With fewer students on campus, opportunities for dining revenue decline, according to Lorena Harris, CBORD's chief marketing officer.
"The dining rooms aren't getting as much traffic; students are going off campus and living off campus more," she said. "The kiosks and food trucks and everything else come into play when schools are trying to keep that revenue … they want to make more services available to keep that money flowing."
The universities are continuing to cook up tech-driven ideas. University of Tennessee Knoxville is considering a "ghost kitchen" to serve food at later hours. UW Madison is eyeing airborne food delivery with flying drones. (Note: A reference to facial recognition software has been deleted.)
"What's so amazing is you're running the dining service like a business," University of Tennessee's Ali said. "You have the technology of food, where you have to update your food. And if your food standards are high but your technology isn't keeping up, the customers are going to go somewhere else."