You have /5 articles left.
Sign up for a free account or log in.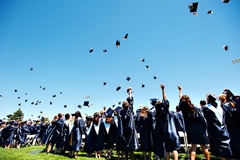 More community colleges are joining a movement to encourage larger course loads in an effort to get students to graduation quicker.
In Texas, the five community colleges that make up Alamo Colleges are using a new incentive -- offering free summer courses.
Last month the San Antonio-based district created a policy that will allow students who earn a total of 24 credits in the fall and spring semesters to receive up to six free credit hours in the subsequent summer. The policy is slated to go into effect next year. It would allow students to earn the 60 hours needed for a degree within two years.
"We believe this is a good way to show students how to complete more quickly and encourage them to get on this pathway and get through or move on to a four-year institution or to their jobs," said Jo-Carol Fabianke, vice chancellor for academic success at Alamo.
About two years ago the system noticed that at least 70 percent of its students were part time, which is pretty typical for community colleges, Fabianke said.
But officials wanted students to realize the benefits of attending college full time. One of those benefits is momentum, or the idea that students who take at least 12 credits per semester will graduate or transfer within a few years.
"You get more financial aid and you'll get through more quickly," she said, adding that the district examined incentives to encourage full-time enrollment, completion and persistence. "We have a lot of students who only take six hours. Is that really all they can take, or have we not done enough to point out the advantages of taking more hours and getting through quickly?"
But the system also wanted to address what some academics call "summer melt," or the loss of students over the summer semester.
"We know there's research that shows we lose students from fall to spring, and we lose a lot more from fall to fall," Fabianke said. "So it was felt that if we could get students to stay enrolled and stay engaged, then we could get that momentum going."
There have been a number of popular momentum initiatives across the country. Complete College America, for instance, is an advocate of the controversial 15 to Finish, which encourages students to take at least 15 credits per semester.
City Colleges of Chicago implemented a new momentum program last year that was connected to a "flat rate" payment structure -- tuition at the colleges became less expensive the more credits students carried. This fall, following the tuition change, the two-year system in Chicago saw a 28 percent increase in the portion of full-time students taking 15 or more credits (as opposed to 12 to 14 credits) over the prior fall.
Those students also completed more credits per attempt -- an 8 percent increase -- with the same or better grade point averages, Katheryn Hayes, a spokeswoman for the Chicago system, said via email.
The Community College Research Center at Columbia University's Teachers College has studied the benefits of momentum and provided guidance to both Chicago and the Alamo Colleges, as well as to other institutions that are interested in creating incentives to drive students to completion faster.
"People say our students are part time with outside responsibilities, which is all the more reason for colleges to offer a compressed, coherent, predictable way to allow students to take as many courses as they can rather than letting them take their time and attend part time over many years," said Davis Jenkins, a senior research associate with CCRC.
Jenkins compares the momentum approach to professional degree programs that are typically compressed and accelerated, despite those students also working and having responsibilities outside the classroom.
At Alamo, students take an average of nine credits per semester, so the district chose a 12-plus-12-plus-six credit framework, because it seemed better for their students, Fabianke said. However, students also can take 18 credits in the fall and spring and earn three free tuition hours.
Six free summer credits could save students about $186 a year, according to Alamo.
While decreasing the time to degree helps improve completion, Jenkins said there's no clear research yet on the types of incentives that work well for momentum. But he said colleges need to discuss time to degree with their students.
"We need to move away from full time and part time," he said. "Students need to be shown from the start at every point along the way how far they have to go to complete a program, and they need to be informed … if they do less, this will stretch out the time to degree, and we think that will change students' minds."