You have /5 articles left.
Sign up for a free account or log in.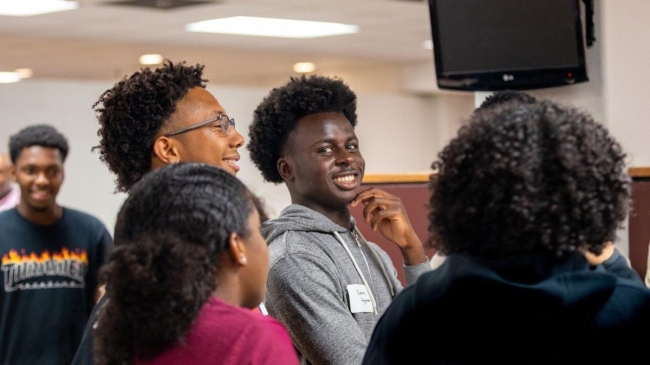 Lee Hawkins/Virginia Tech
For the Black community, the barbershop is more than just the place you get your hair cut or styled.
"If you've ever been in a Black barbershop, like, in that cultural space, anything goes," says Patrick Wallace, assistant director of the Student Success Center at Virginia Polytechnic Institute and State University. "Within 10 minutes, you can have five different conversations," ranging from politics to personal life to sports and everything in between.
Virginia Tech hosts a Black Male Excellence Network (BMEN) that coordinates a Barbershop Talk Series, creating space for its Black male students to talk about their lives in an unstructured, open manner.
How it started: In 2011, Virginia Tech administrators realized that while Black undergraduate students came in as high achievers, 10 percent of them fell into academic probation for holding a GPA of 1.99 or below.
The university created the Black Male Achievement Effort that year, joining offices across the university and student groups, like the African American Brotherhood, to support students, shares Karen Eley Sanders, associate vice provost for college access at Virginia Tech.
"I believe when we invite our all of our students into our university community, it is our responsibility to make sure they have the support and the resources that they need to be academically successful," Sanders says. "That's why it's so important not to just think, 'These are men of color, so we're going to lean on the Office for Diversity and Inclusion,' because the Office of Diversity and Inclusion does not grant college degrees."
The initiative grew into BMEN and its various programs, like creating a designated study space, hosting an annual conference called the Uplifting Black Men Conference and extends to the Barbershop Talks.
What it is: Once a month, Wallace, also the coordinator for BMEN, hosts a Barbershop Talk in the Black Cultural Center on campus. In the past, the event was held in an actual barbershop in the community, but following the COVID-19 pandemic, the event has lived on campus.
Barbershop talks are not unique to Virginia Tech, Wallace points out, but rather a slice of a larger connection to Black culture. The University of Mississippi, Queens University of Charlotte, Goshen College and Ivy Tech Community College all have held their own barbershop talks, often with a real barber involved.
At Virginia Tech, however, Wallace wants students to direct the conversation.
For each event, Wallace brings food—ribs, pizza or something similar—and a few questions he calls "pocket topics" in case the conversation hits a lull.
Antonio Bolden, a staff counselor at Virginia Tech's Cook Counseling Center, joins Wallace at the talks to provide additional support and talking points as students need it. But otherwise, the event is student-led.
"Before I say anything, I leave the floor open to them," Wallace says.
Why it works: Getting student buy-in and letting them provide direction for BMEN's operations is one of Wallace's biggest priorities.
"I incorporate students in almost every process of my programming," Wallace explains. "I told the students when I first started, 'I want this program to be something you can take ownership [of] and that you think is reliable and sustainable and something you can leave a legacy with.'"
Wallace also strives to be vulnerable with students in the barbershop talk himself.
"Being more open, as a leader and as a professor, as an administrator, actually encourages them to be more open," Wallace says. He'll share his own anecdotes of grief or academic frustrations and finds more reserved students will respond in kind.
If your student success program has a unique feature or twist that you believe is worth modeling, we'd like to know about it. Click here to submit.