You have /5 articles left.
Sign up for a free account or log in.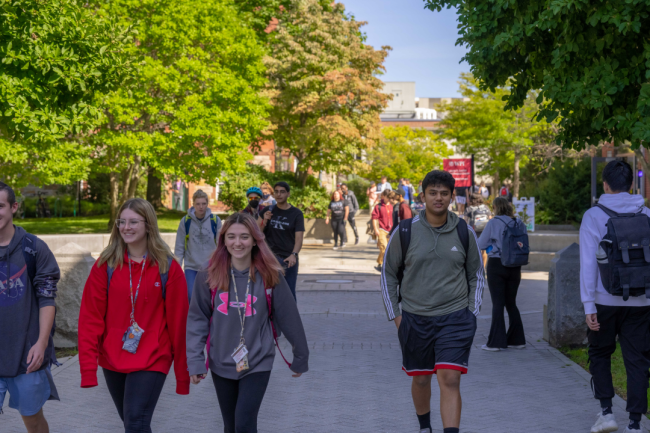 Worcester Polytechnic Institute
For many students, who serves on the Board of Trustees can be a mystery. But at Worcester Polytechnic Institute in Massachusetts, trustees are mentors to a select group of student leaders each year.
WPI's Trustee Mentor Program has run for over 20 years, connecting many of its trustees to diverse and engaged juniors and seniors to receive professional guidance, advice and networking opportunities. For trustees, the experience grounds them in the campus community and allows them to give back in intentional ways.
Survey: Mentors Underutilized
While mentorship is a high-impact practice for college students, many students do not engage in mentorship experiences.
An October 2021 Student Voice survey from Inside Higher Ed and College Pulse, with support from Kaplan, found that nearly half of students reported they don't have a mentor. The largest barriers to mentorship were that students say they don't know how to find a mentor or don't know what they would ask a mentor.
The inspiration: Many institutions recognize the need to demystify their board members and create engagement opportunities. "Meet the trustees" events and inviting student leaders to present at board meetings give students a limited opportunity to dialogue with officials.
For trustees, busy schedules and other obligations can make it difficult to spend time with students or get a pulse on campus.
WPI's mentorship program strives to make longer-term, deeper and more intentional connections between the two groups.
The logistics: Each year, WPI administrators ask trustees if they would be interested in participating in mentorship. The program is voluntary, and participation varies each year depending on a trustee's availability in their personal and professional life. Typically, around 25 of the 30 or so trustees serve as mentors.
After identifying mentors, administrators work with staff and faculty members to recruit budding student leaders in their third or fourth year.
The ideal mentee is one who is involved in multiple activities on campus and is interested in the work of the trustees.
"We try to look for a diversity of students—in terms of men, women, underrepresented students, international students—just so that trustees have the opportunity to really meet different kinds of students, as opposed to only that established student leader or above in student government," says Philip Clay, senior vice president of student affairs.
The program is designed to provide career guidance to students and a well-rounded view of campus to the trustees, so having older and experienced students ensures these goals can be met.
Students submit an application sharing career aspirations, hobbies, a copy of their résumé and some questions they would have for a trustee. This provides insight to staff in the matching process about who might be compatible in a mentorship and identifies how a student can contribute to the program.
In a perfect world, all mentor pairs would share a common discipline or degree to provide career advice and support to the student, but some mentors graduated from WPI before degrees like biomedical engineering existed, making the connections a little broader.
Interests or demographics are also considered when establishing mentorships, but "it's really more of an art than a science," Clay says.
The program accepts around 25 mentees each year, pairing students one-to-one with trustees when possible, or two-to-one when necessary.
Fostering connections: Students meet with their mentor three times formally when the board meets on campus, Clay says. During these gatherings, student participants engage with the entire board, giving trustees not serving as mentors a chance to interact with students as well.
Throughout the year, mentorship pairs meet at their own discretion in person, over the phone or on Zoom, depending on availability. Some trustees are retired and live close to campus, making them more accessible, while others live farther away and are midlevel career professionals.
As a result of the program, trustees are inspired and refocused on WPI's mission, Clay shares. "Understanding the impact of the work that our students are doing, while they're students but also to help to launch them in their career, I think it's a way to ground their work."
Former WPI trustee Judy Nitsch, who served on the board for 23 years and was a pilot mentor of the program, has maintained relationships with her mentees, Clay says, meeting with a group of them regularly over Zoom.
Generally, students selected for the program leave with an adviser and professional guidance in their career aspirations and development, both as students but also early-career professionals.
Part of the program's success comes from its clear and specific objectives for participants, Clay believes. Having a narrow focus—deriving advice and feedback on career and campus life—has fostered better buy-in from trustees and students and drives the mechanisms behind the work.
Seeking stories from campus leaders, faculty members and staff for our Student Success focus. Share here.