Technology
U of California professors object to new system -- installed secretly -- to monitor emails and use of computer networks. University cites security needs and pledges to protect privacy.
Surveys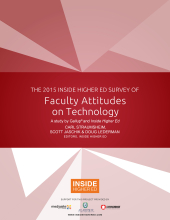 Oct. 14, 2015 -- Inside Higher Ed's 2015 Survey of Faculty Attitudes on Technology explored the views of instructors (and campus administrators who oversee digital learning) on a range of timely issues.
A copy of the report can be downloaded here.
Inside Higher Ed regularly surveys key higher ed professionals on a range of topics.
On Nov. 12 at 2 p.m. Eastern, Inside Higher Ed's Scott Jaschik and Carl Straumsheim will conduct a free webinar analyzing the survey's findings and answering readers' questions. To register for the webinar, please click here.
The survey was made possible in part by financial support from Mediasite, the Learning House and Academic Partnerships.
Booklets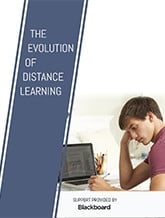 "The Evolution of Distance Learning" is Inside Higher Ed's latest compilation of articles.
The print-on-demand booklet features articles about a range of institutions and approaches.
This compilation is free and you may download a copy here.
Inside Higher Ed featured a webinar on October 13 in which its editors and reporters discussed the themes of the booklet. Click here to listen to the webinar.
This booklet was made possible in part by the advertising support of Blackboard. 
Blogs
Library Babel Fish
February 10, 2016 - 8:26pm
Robin Chin Roemer and Rachel Borchardt answer my questions about their new book, Meaningful Metrics.
Technology and Learning
February 10, 2016 - 9:00pm
Is your college considering online learning?
Technology and Learning
February 9, 2016 - 9:00pm
Why do we choose to work in higher ed?
Topics
Section Topics
Related Jobs
Located four blocks from the White House, The George Washington University was created by an Act of Congress in 1821. Today, GW is the largest...
WCU was founded in 1889 to bring higher education and career opportunities to the western region of North Carolina. A member of the University of...
Most
Past:
Day
Week
Month
Year